EU-Mercosur Association Agreement: the opportunities for European products in Brazil

Adobe Stock
On July 7, 2021, Brazil disclosed its tariff elimination schedule embodied in the EU-Mercosur Association Agreement announced on June 28, 2019, in Brussels (Belgium). The official documents will only be binding after the ratification in each Member-State. However, the disclosed Annex gives an idea to European traders and practitioners of the gains that can be obtained when the deal enters into force.
We also invite you to watch the interview about: when the agreement between the EU and Mercosur is expected to enter into force; Brazilian position regarding international trade and Mercosur partners; the shift in Brazilian trade policy regarding new free trade agreements.
The EU-Mercosur Agreement in a nutshell
The agreement between the European Union and Mercosur will constitute one of the biggest free trade areas in the world, integrating a market of 780 million people representing a quarter of the world´s GDP. On the one hand, the EU is the 2nd largest partner of Mercosur, but, on the other hand, Mercosur is the 8th biggest trade partner of the EU. In order to strengthen the relationship between these historical partners, Mercosur will eliminate tariffs on 96% of the trade volume in agricultural goods (94% of tariff lines) and 91% on industrial goods [1].
From the Mercosur side, this is the most significant and complex trade agreement ever negotiated because the bloc has not signed extra-regional agreements during the '90s, focusing more on multilateral negotiations in the World Trade Organization (WTO). As a result, Brazil, as the major country in the Latin American bloc, has consolidated its average tariff in the WTO around 35.4% for agricultural goods and 30.8% for industrialized goods [2].
In the context of the EU-Mercosur Agreement, the import tariff in Brazil will be reduced to zero for more than 90% of all goods exchanged between the blocs over the next 15 years. In doing so, the agreement prescribes rules of origin that will assist trading partners in a better engagement on their domestic economies in the global value chains.
Besides that, the agreement enhances transparency and legal certainty in the services market, investment, and government procurement. It will also foster trade by cutting the red tape on non-tariff measures, consolidating good governance practices, setting rules that are more predictable on trade facilitation, and increasing protection on intellectual property [3].
The agreement was built upon three pillars: political dialogue, cooperation and free trade. The chapters negotiated are the following:
market access (tariff elimination schedule)
rules of origin
sanitary and phytosanitary measures
technical barriers to trade (automotive annex)
trade defense
bilateral safeguards
competition
trade facilitation and customs cooperation (mutual assistance and antifraud clause)
services and establishment (market access commitments)
government procurement (market access commitments)
intellectual-property (geographical indications)
regional integration
dialogues
state enterprises
subsidies
Small and Medium Enterprises (SMEs)
trade and sustainable development
annex on wine and distilled beverages
transparency
institutional, legal, and horizontal issues
dispute settlement
There are a variety of topics discussed in the agreement. This paper highlights some opportunities regarding trading in goods.
Trade in goods chapter
The goods chapter was negotiated to bring modern rules regarding the free trade area, reinforcing multilateral disciplines regarding trade in goods. Therefore, it encompasses provisions on national treatment, charges and taxes related to importation and exportation, import licensing procedures, export taxation, state enterprises, refurbished goods, etc.
The preferences on tariffs given by Mercosur to the EU will cover 98% of trade and 96% of tariff lines. The agreement prescribes linear tariff reduction in baskets of goods for Mercosur in five different arrangements of years: 0 (open immediately); 4; 8; 10 and 15. There is also non-linear tariff elimination for certain goods such as vehicles, chocolate, sparkling wine, and tomatoes.
If we consider the number of goods, there are 9.094 in the linear tariff reduction (90.7%), 42 in the non-linear reduction (0.4%) and 894 products excluded (8.9%). Considering the value of importation of Brazil, these three categories represent, respectively, US$ 29,300.80 million (89.8%), US$ 756.6. million (2.3%) and US$ 2,588.9 million (7.9%) [4].
Brazilian offer overview
Source: CNI (Brazilian National Industry Confederation)
Further, Mercosur´s offer can be broken down as follows: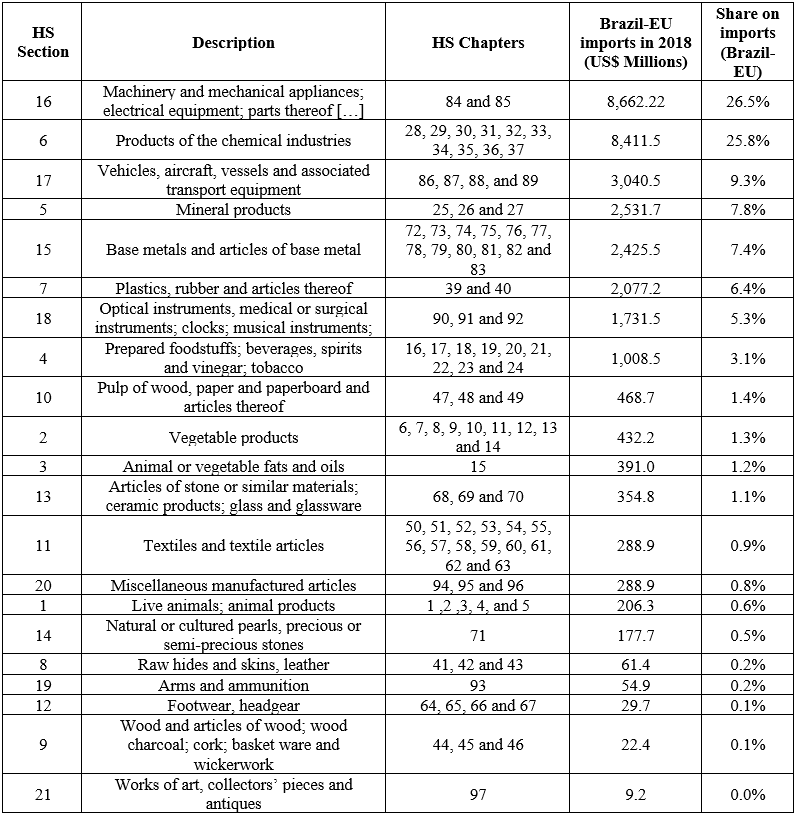 Source: CNI (Brazilian National Industry Confederation)
There are also some Tariff-Rate Quotas (TRQs) given by parties in the agreement for products such as wines, which will get duty-free as of the entry into force of the Agreement if the customs value is equal or higher than 8 (eight) USD FOB/liter [5]. Such goods shall remain at the base rate of customs duty set out in each Party's Schedule for 12 (twelve) years after the entry into the force of the Agreement, and thereafter shall be eliminated in full and be duty-free on 1 January of year 12.
For cheese [6] and milk powder [7], the Agreement prescribes, respectively, 30 thousand MT and 10 thousand MT with zero tariff rate for both sides within a 10-year period. For infant formula [8], the amount is 5 thousand MT for both sides in the same period of reduction. Mercosur also grants TRQ for garlic imports reducing tariffs to zero within 7 years.
Final considerations
As we can see above, the EU-Mercosur Agreement starts the biggest trade agreement in history for Mercosur´s Members. When the agreement enters into force, European exporters may enjoy preferential access to highly valued-added sectors since half of the Brazilian imports are focused on two HS sections: machinery/ electrical equipment (26.5%) and goods of the chemical industry (25.8%).
Another relevant share of imports (9.3%) is derived from cars/ transport equipment and mineral goods (7.8%), where European manufacturers are also known worldwide.
The third most relevant group of imports is base metals (7.4%), plastics and rubber (6.4%), optical and medical instruments (5.3%), and the final group encompasses 14 HS sections, accounting for around 11% of the share on imports.
Lastly, but not least, the TRQs also may represent an important market for European exporters, especially on goods that are highly appreciated in Brazil such as wines and cheese, or agricultural goods that are strongly protected like garlic.
------------------------------
[1] See the brochure elaborated by the Brazilian government after the announcement of the conclusion of negotiations. Available at: https://www.gov.br/mre/pt-br/arquivos/documentos/politica-externa-comercial-e-economica/2019_10_24__Resumo_Acordo_Mercosul_UE_CGNCE.pdf. Visited on 05.08.2021.
[2] The data are according to Brazil´s Tariff Profile issued by WTO in 2019. Available at: https://www.wto.org/english/res_e/statis_e/daily_update_e/tariff_profiles/BR_e.pdf. Visited on 05.08.2021. Despite the simple average final bound tariff in Brazil being 31.4%, the trade-weighted average applied tariff is 10.0% (12.3% for agricultural goods and 9.9% for industrialized goods).
[3] Adapted from the Brazilian Press Note. Available at: https://www.gov.br/economia/pt-br/canais_atendimento/imprensa/notas-a-imprensa/2021/julho/acordo-entre-mercosul-e-uniao-europeia-governo-brasileiro-publica-ofertas-de-acesso-a-mercados. Visited on 05.08.2021.
[4] The CNI (Brazilian National Industry Confederation) has published an analysis of MERCOSUR´s offer to the European Union available at: https://static.portaldaindustria.com.br/media/filer_public/ce/f9/cef97532-e5ee-435d-b2bd-f3724b49efe0/3_analise_acordo_mercosul_ue_ofert_do_mercosul.pdf.
[5] See Section A.5(f). Tariff Elimination Schedule, Available at http://siscomex.gov.br/wp-content/uploads/2021/07/2A-Anexo-sobre-Cronogramas-de-Desgravacao-Tarifaria.pdf.pdf.
[6] See section C.2 of the agreement Idem Ibidem
[7] See section C.1 of the agreement Idem Ibidem
[8] See section C.3 of the agreement Idem Ibidem