Non-customs formalities in EU
EU Single Window Environment for Customs: non-customs formalities, systems

Adobe Stock
What are non-customs formalities and, accordingly, non-customs systems?
Non-customs formalities are regulatory requirements that certain goods are subject to at the EU border in policy domains such as health and safety, environment protection, fisheries, agriculture, market surveillance, etc. Accordingly, the systems that store information about the fulfillment of specific non-customs formalities required for the international trade in goods are referred to as non-customs systems.
Why is it particularly important in the current customs context?
It is important, because Regulation (EU) 2022/2399 establishing the EU Single Window Environment for Customs made its way into EU law in December 2022. This Regulation provides a new legal framework to improve information sharing and digital cooperation between customs administrations and other government authorities in charge of enforcing non-customs formalities at the EU border. This will allow economic operators to clear certain customs formalities more easily.
What is the main system interconnecting the customs and non-customs systems?
The EU Customs Single Window Certificates Exchange System (EU CSW-CERTEX) is the centralised system to interconnect the import, export and transit systems of the Member States with Union non-customs systems.
In the context of the new Regulation, Union non-customs systems will be connected to EU CSW-CERTEX to exchange information with the national single window environments for customs. These systems are used on a mandatory or voluntary basis depending on the requirements of EU sectoral legislation for each policy domain, see the figure 'Existing and future Union non-customs systems in the respective sectoral domains' below.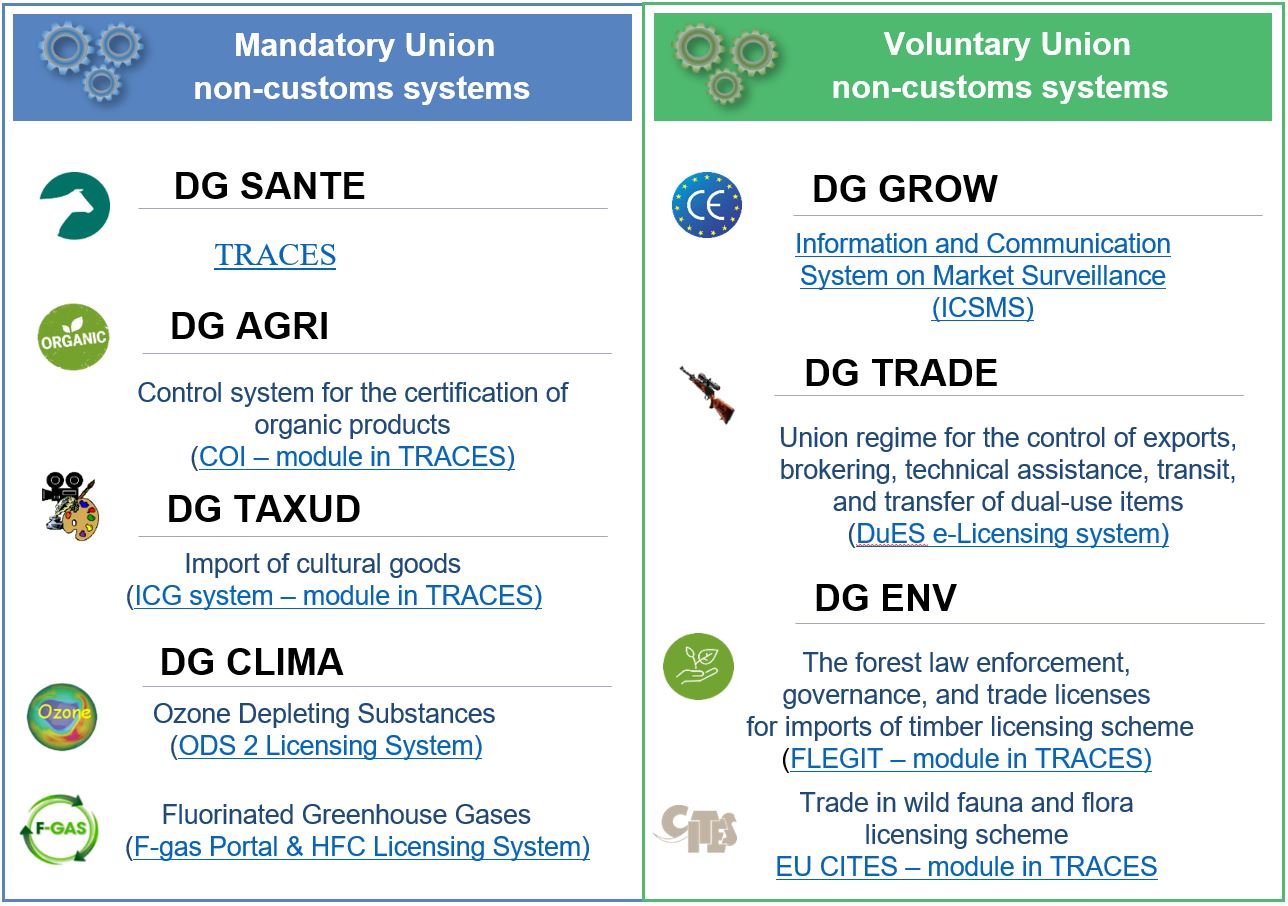 Source: https://taxation-customs.ec.europa.eu/eu-single-window-environment-customs_en
Market:

EU - European Union